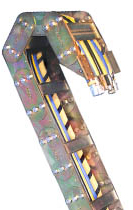 Downloads
Catrac Catalog
Gemco CATRAC
CATRAC is used on various types of machinery as a means of safety and efficiently conveying power, electrical, air, or fluid (or a combination of these) to equipment in motion. CATRAC is designed to be maintenance free and to protect cables and hoses from abrasion, wear and twisting. A wide variety of options are available.

The center pivot design allows for smoother cycling and minimal hose movement. The CATRAC design offers "No Pinch Points" to insure operator safety. Standard side links are high tensile steel for maximum strength. Steel CATRACs are zinc plated with a yellow dichromate dip for superior corrosion resistance. Optional materials, such as aluminum and stainless steel are available. 
We also offer a line of Mill Duty CATRACs that are used in rugged applications and environments such as steel mills. These CATRACs offer a box beam type carrier for maximum strength and stability. Spring loaded rods offer the customer easy access to cables and hoses. They also eliminate the concern of fitting sizes that must pass through the (fixed) compartment opening on a box beam style carrier. Hardened shoulder bolts and locknuts (referred to as bolted construction) are recommended for use in rugged environments. The CATRAC is manufactured so that pieces or sections can be removed or replaced in the field.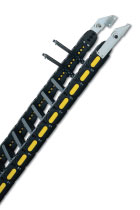 Downloads
SnapTrac Catalog
Gemco SNAPTRAC
SNAPTRAC® was developed to offer a light weight, low cost carrier for protected and controlled movement of cables and hoses. This corrosion resistant, nonconductive carrier is made of a longwearing nylon composition. SNAPTRAC can be used with electric, air, gas or hydraulic hoses.      

Technical Characteristcs
Light and secure even at high speeds, SNAPTRAC carriers will provide protection for the components inside the carrier. The carrier is durable against harsh corrosive environments as found in refineries and marine application, chemical fumes, refrigeration fluids, lubricating oils and solvent present in a temperature range from -13°F to 257°F.

Options
Enclosed Designs
Vertical Separator
Horizontal Separator
Vertical/Horizontal Separators
Drilled Frames