Systems and machines require connection to external devices.> Murrelektronik offers solutions that provide fast, service-friendly, cost-effective connections to your periphery. Connections that are uncomplicated, but also easily disconnectable for transportation or for working with modular machines.
Our control cabinet couplings are designed as bus and power supply interfaces. They feature IP65 protection and are produced as modular systems. Murrelektronik offers a complete range of data plug connectors for control cabinet couplings.
Cable glands allow uninterrupted cable runs. Modular card cages ensure total flexibility. Installation is fast and the cable glands are designed to fit standard cutout sizes.


Communicate - Connect Machines to Diagnostic Equipment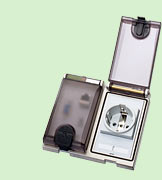 For diagnostic or service reasons, machines and systems must be connected to peripheral devices, such as laptops, PCs, programming devices or printers. The Modlink MSDD front panel interfaces from Murrelektronik are designed for connection to the outside world.
Using Modlink MSDD, you can plug in external devices without opening the control cabinet. Country-specific sockets allow the device to be installed worldwide. In fact, the modular design with individual data plug connectors offers over 4000 plug combinations.