Ohio Magnetics
Loadstar and Super Loadstar (SLS) Lifting Magnets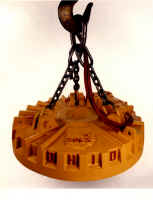 The Loadstar series of lifting magnets are favorites of the scrap handling industry due to their heavy-duty construction and deep field design. Loadstar is specifically engineered to provide our customers maximum production scrap handling profitability and long productive life. The heart of Loadstar's superior strength is a cast, steel magnet case with integrally cast, ribbed sections. High-strength alloy steel lifting chains and an extra thick work hardening manganese bottom plate complete the design circuit. The result is high day-to-day production, long service life and easy serviceability. When you consider the responsible, low initial cost of a Loadstar, you'll know that you're looking at an uncontested long-term value for your operation.
NEW!: Ohio Model 48", 58" and 67" SLS
We've introduced another reason why users prefer Ohio Magnetics -- the Model 48 SLS, Model 58 SLS and Model 67 SLS, lifting magnets with even greater lifting capacity, increased duty cycle and cooler operating temperatures for your most demanding applications.
Downloadable literature: Super Loadstar Series Lifting Magnets (2.0MB PDF)
Typical Applications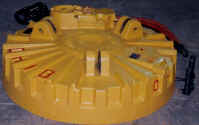 Lifting Magnet Design Form (Excel form)
Features
Low cost, high performance magnets ideal for scrap handling value

Designed for durability and high lifting performance

Available in 48", 58" and 67" designs

Heavy duty cast case construction

Light weight ideal for hydraulic machines

Deep field design, creating a powerful gripping force

230 VDC standard; special voltages available by request
Average Lifting Capacity in Lbs.

(based on specifications from Institute of Scrap Iron & Steel)

Size

(dia.)

Single Slab

or Billet

Machine Cast

Pig Iron

#1 Heavy

Melt

#1 Machine

Scrap

#2 Broken

Steel

Turnings

48"

Inquire

1,800

1,800

Inquire

625 - 1,200

625

58"

Inquire

2,780

2,780

Inquire

800 - 1,800

850

67"

Inquire

4,200

4,200

Inquire

1,350 - 2,700

1,350

48" SLS

Inquire

2,200

2,200

Inquire

750 - 1,470

765

58" SLS

Inquire

3,240

3,240

Inquire

950 - 2,170

1,150

67" SLS

Inquire

4,585

4,585

Inquire

1,470 - 3,250

1,475

(Capacities based on tests under optimum conditions;

actual performance will vary with specific operating conditions.)
203 Vest Avenue
Valley Park, MO 63088
Toll Free: (888) SPECTECH
Phone: (636) 537-0202
Fax: (636) 537-1405
E:mail: sales@spectechind.com