+GF+ Signet
pH/ORP Instruments and
Calibration Accessories

8750 ProcessPro® pH/ORP Transmitter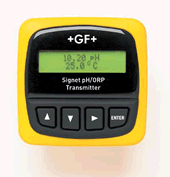 Data Sheet
8750-1 Manual
8750-2 Manual
8750-3 Manual
The Signet 8750 pH/ORP Transmitter is designed for broad application and ease of setup and use. The unit auto-configures for either pH or ORP use when connected to Signet pH or ORP sensors. Multiple mounting options allow for installation best suited to your particular application. The automated "Easy-cal" menu features automatic buffer recognition for mistake proof pH or ORP sensor calibrations. Intuitive software and the four button keypad arrangement make it easy to access important information such as pH or ORP, mV input, temperature, calibration, relay set-up menus and more.
Features:
Automatic temperature compensation (pH)
Display in °C or °F
Hold and Simulate functions
Integral or remote mounting
Relay options
Output scalability
Dual output option allows temperature and pH signal transmission
2 x 16 character dot matrix LCD
Chemical resistant enclosure and self-healing window
Large pushbuttons
Clearly marked terminal labels
Applications:
Neutralization systems
Heavy metals recovery
Plating control
Scrubber control
Pool and spa control
Environmental study
Water treatment
Water quality monitoring
Waste treatment
Disinfecting
5700 ProPoint® pH/ORP Monitor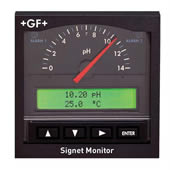 Data Sheet
5700 pH Manual
5700 ORP Manual
The Signet 5700 pH/ORP Monitor is a versatile and intelligent instrument that recognizes the type of sensor connected, either Signet pH or ORP Electrode, then automatically sets itself for the corresponding display and functionality. Also, during "Easy Cal" operation, the monitor automatically recognizes standard buffers/test solutions thereby shortening and simplifying routine calibration procedures. Two programmable relays and one scaleable 4 to 20 mA output are included, and the four-button keypad arrangement with intuitive software design is very user-friendly. The monitors require 12 to 24 Volts, AC or DC, and can be used with the Signet 2720 pH/ORP Preamplifier and Sensor system, or with sensors from other manufacturers by using the 2721 Preamplifier. Several useful accessories are available, including the optional Rear Cover Kit used to extend the NEMA 4X/IP65 integrity of the front panel to the entire enclosure.
Features:
Simultaneous pH and Temperature Display
Simultaneous ORP (calibrated) and Input (raw) mV Display
Scaleable 4 to 20 mA Output
Two Programmable Relays
Dual Proportional Control Capability
Temperature Compensation
Automatic Sensor Recognition
"Easy-Cal" Simplifies Routine Calibration
Analog and Digital Display
Applications:
Water & Wastewater Treatment
Neutralization
Scrubber Control
Effluent Monitoring
Surface Finishing
Heavy Metal Removal and Recovery
Toxics Destruction
Sanitization Systems
Commercial Pools & Spas
Aquatic Animal Life Support Systems
Process Control
pH/ORP Buffer Solutions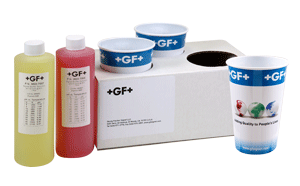 The Signet pH buffers are ideal for many calibration requirements. The liquid solutions are conveniently packaged in one pint bottles; the powder pillows are packaged in low weight, single-use containers which can be mixed with water. All pH buffers are color coded for easy identification; 4.01 pH is red, 7.00 pH is yellow, and 10.00 pH is blue.

The pH buffers are traceable to NIST standards and certificates are available upon request. They are accurate to within ± 0.01 pH units @ 25 °C and have long term stability.

These solutions are temperature sensitive and are provided with temperature correction values for the most accurate calibration. For applications that require ORP calibration, the pH 4 and pH 7 buffers can be mixed with quinhydrone powder for the correct measurement values of 87 mV and 264 mV respectively.
Features:
NIST Traceable
Easily identifiable color
coded buffer solutions
Liquid or powder
versions
Temperature
compensated values
Kits for easy use
Back to Signet products
All Signet literature
Signet Part Numbers
Updated on April 3rd 2019
203 Vest Avenue
Valley Park, MO 63088
Toll Free: (888) SPECTECH
Phone: (636) 537-0202
Fax: (636) 537-1405
E:mail: [email protected]techind.com