Angle Seat Check Valve Type 303 - 304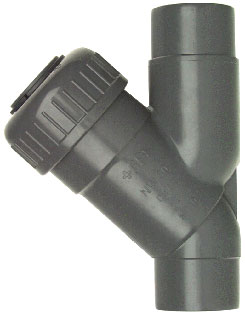 GF Piping Systems Angle Seat Check Valves Type 303/304 show their strength with remarkable reliability. Type 303/304 valves work in either vertical or horizontal position.
The design has evolved its strengths over many years.
Because of its position-independent function and the simple maintenance process, the valve grants a high degree of process reliability.
Fields of Application:
Chemical Process Industry
Water Treatment
Cooling processes
Advantages:
Self closing check valve (gravity)
Works both horizontally and vertically
Easy maintenance of check element without dismantling the valve
Ball Check Valve Type 360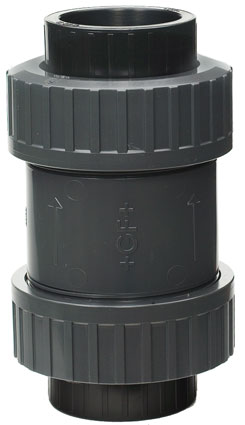 GF Piping Systems ball check valves Type 360 show their strength by remarkable features in easy structure, reliability and compact design.
By the broad product range and the different Materials and various end connectors in many standards we expand a large area of applications.
The self cleaning design and the profile seal guarantee a high level of process reliability. Sealing absolute tight already at 0.2 bar / 2.9 psi closing pressure.
Fields of Application:
Chemical Process Industry
Water Treatment
Microelectronics
Cooling processes
Ship Building
Advantages:
self closing (gravity and water collumn)
self cleaning design (rotating ball)
Gate Check Valve Type 369
GF Piping Systems Gate Check Valves Type 369 is designed especially tough for large installations, demands low service effort and absolutely compact.
The Design is optimized for installations between ISO/DIN as well as ASTM connections.
The Gate Check Valve can be installed both in either horizontal or vertical direction.
Fields of Application:
Chemical Process Industry
Water Treatment
Advantages:
self closing (gravity, water collumn)
highly abrassive materials
simple installation between standard flanges (see Product range)
optimized Sealing (Flange seal)
Options:
spring in stainless steel V4a or Hastelloy C
Strainer Type 305 - 306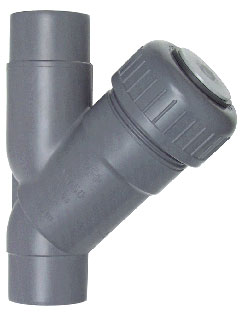 To protect valves, sensors and pumps from pollutants, we recommend the use of Strainers Type 305. This ensures reliable operation and extended service life for your components.
The broad product range includes different materials, end connectors, and standards, suiting a large variety of applications.
Fields of Application:
Chemical Process Industry
Water Treatment
Cooling processes
Advantages:
all parts in contact with the medium are manufactured of highly resistant thermoplastics
radial removable (PP-H)
easy dismantling to clean or replace the screen