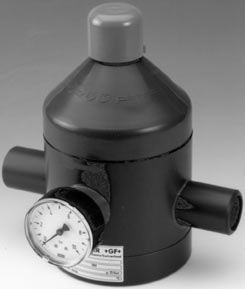 The pressure reducing valves V782, V82 and V182 from GF Piping Systems reduce the pressure within the system to a pre-set value. By using the differential pressure, the pressure reducing valve adjusts itself to the set working pressure.
The outlet pressure (working pressure) is not directly related to the inlet pressure. If the outlet pressure increases or decreases above/below the desired value, the diaphragm is lifted against the spring force or pressed down by the spring force, as the case may be, by the outlet pressure.
The pressure reducing valve begins to close/open until a state of equilibrium is re-established; in other words, the outlet pressure remains constant irrespective of an increasing or decreasing inlet pressure.
Fields of Application:
microelectronics
measurement & control
chemical process industry
water treatment
Advantages:
all parts which come into contact with the medium made of highly resistant plastics
the actuator is separated and hermetically sealed off from the flow section by the control diaphragm
small standard tolerances due to the large control surface and the spiral spring
no auxiliary energy is required to operate the valve
largely maintenance-free and installable in any position
can also be adjusted under working pressure
standard version type V82 and V182 with manometer