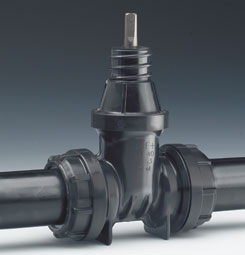 For house service connections in water distribution, we offer a robust plastic gate valve for direct or lateral tie-in. A plus of the robust plastic gate valve is its easy installation.
This lightweight couldn`t be easier to handle. Whether you wish to combine different materials or use different jointing techniques- GF Piping Systems has the ideal economical solution for you.
Rely on such proven products as our ELGEF Plus modular system. The system modularity and flexibility can be used to find the perfect combination of components for your particular application.
Fields of Application:
water distribution
industrial pressure applications
house connections
Advantages:
POM-service valve with soft sealed gate
integrated protection from over tightening through misuse
service valves made out of POM are suitable for aggressive soils
no corrosion or incrustation of the valve due to smooth surfaces
very light POM Service Valve in comparison to metal valves