Back to Gleason
Gleason Reel Hubbell Tool Balancers
Hubbell Tool Balancers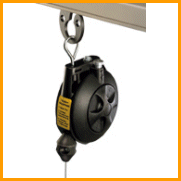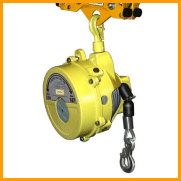 TOOL BALANCERS MAKE TOOLS WEIGHTLESS.
RELIABLE & ECONOMICAL SERIES "BD" TOOL BALANCERS are the economical choice for balancing tools weighing up to 5 lbs(2.3kg). Molded ABS housing has a smooth exterior with rounded edges designed for maximum ergonomic appeal. Series "BD" balancers are the most modern, easiest to adjust, and reliable available. Each balancer incorporates all of the important functions expected of a world class product.
HEAVY DUTY SERIES "BG" REELS feature rugged steel construction with black polyester baked finish, reinforced hanging bracket with forged clevis for ceiling mounting and extra holes for safety chain attachment. Spring is permanently lubricated and provides constant tension, adjustable for balancing tool in normal working zone (6 - 18 in.[152-457mm]). Cable is 920 lb.(414kg) test 0.09"(2.3mm) dia. 7 x 7 strand galvanized steel aircraft cable nylon covered to 0.12"(3.0mm) O.D. Includes safety tool clip and adjustable cable stop.
EXTRA HEAVY DUTY SERIES "BH" BALANCERS (pictured) in various models for tools from 9 to 187 lbs. Balancers feature tapered drums to compensate for spring rate, die cast aluminum housings and automatic safety catches. Spring tension easily adjusted from outside housing without disassembly.
Download Tool Balancer Information .PDF
Updated on April 3rd 2019