Back to Accessories
Seametrics

Mounting Kits

Two mounting kits (MK10, MK20) are available to provide a more modular housing system. The photos show how a flow computer (FT415, FT420) analog transmitter (AO55) or pulse divider (PD10) can be mounted on an IP or TX 80-Series flow sensor using an MK10.


Assembling the MK10, Flow Meter and Electronics

 

MK10 Adapter Kit

 

1. Remove Strain Relief from the 80 Series Meter

2. Attach MK10

 

3. Tighten with Screwdriver,

Cut Wire to Length

4. Add Electronics, Connect Wires

 

Meter with Electronics
The MK20 (shown below) is a back half with feet, to convert any meter mounted electronic module into a wall mount.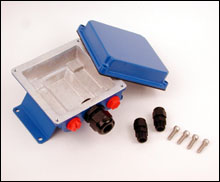 MK20 Mounting Kit


The housings themselves are the same rugged, fusion coated cast aluminum enclosures used on other products. The electronic modules are physically interchangeable.