2850 Conductivity/Resistivity Sensor Electronics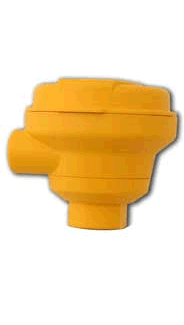 The Signet 2850 Conductivity/Resistivity Sensor Electronics are available in various configurations for maximum installation flexibility. The universal mount version is for pipe, wall, or tank mounting and enables single or dual (digital output only) inputs using any standard Signet conductivity / resistivity sensor. The threaded j-box version can be used with these same Signet sensors for submersible sensor mounting. It is also available as a combined integral system configuration for in-line mounting and includes a conductivity electrode in a choice of 0.01, 0.1, 1.0, 10.0, or 20.0 cm-1 cell constants. The 2850 is ideal for applications with a conductivity range of 0.055 to 400,000 µS or a resistivity range of 100 Megohms to 10kohms.

All 2850 units are available with a choice of two outputs, digital (S3L) or 4 to 20 mA. The digital (S3L) output version allows for up to six sensor inputs directly into the Signet 8900 Multi-Parameter Controller. The two-wire 4 to 20 mA output is available with eight 4 to 20 mA output ranges for each electrode cell constant.

All 2850 units are built with NEMA 4X/IP 65 enclosures which allow wiring connections with long cable runs of up to 1,000 feet (305 m). EasyCal is a standard feature that automatically recognizes conductivity test solution values for simple field calibration. A calibration tool is available to validate of the sensor electronics according to USP requirements.
Features:
Integral mount systems for quick and easy installation
Compact design for maximum installation flexibility
Digital (S3L) interface or two-wire 4 to 20mA output
EasyCal with automatic test solution recognition
Dual channel unit available for low cost installation with Signet 8900 Multi-Parameter Controller
For use with ALL Signet conductivity electrodes
Applications:
Water Treatment and Water Quality Monitoring
Reverse Osmosis
Deionization
Demineralizer, Regeneration & Rinse
Scrubber, Cooling tower and Boiler Protection
Aquatic Animal Life Support Systems
2819-2823 Conductivity/Resistivity Electrodes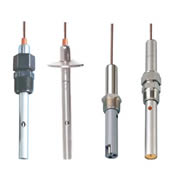 Signet Conductivity/Resistivity Electrodes are designed to provide versatile installation and accurate sensing across a very broad dynamic range. Coupled with Signet-patented measuring circuitry a three decade range with ±2% of reading accuracy is achieved without the need for troublesome sensor platinization. Platinum RTD (PT-1000) properly located within the sensor allows optimal temperature sensing. Standard wiring allows connection without costly "patch cords".
Features:
Controlled surface finish ensures accuracy and repeatability
Flow-through design
In-line or submersible mounting
Certified cells ±2% meets USP requirements
Standard process connections
- 3/4" NPT Polypro
- Tri-clamp 1 -11/2", 2"
- Opt. 1/2" NPT 316 SS

316 SS Standard Electrode
Alternate materials
- Titanium
- Hastelloy-C
- Monel

PTFE insulator
Applications:
Pure Water Treatment
- Reverse Osmosis
- De-ionization
- Distillation
Boiler Condensate
Semiconductor Water Production
Rinse water monitoring and control
Chemical Concentrations
Cleaner and Degreaser Concentrations
TDS
Salinity
USP Purified Water and WFI Water Production
2839-2842 NPT Conductivity/Resistivity Electrodes

The 2839-2842 Conductivity/ Resistivity Electrodes are available in four cell constants from 0.01 to 10.0, and are suitable for a wide variety of applications from high purity water quality monitoring to demineralizer regeneration. 316SS electrode surface finishes are controlled in a precision bead blasting operation to ensure measurement accuracy and repeatability. The PEEK insulator and process connections are injection over-molded to minimize variance between electrodes. Double threaded connections in either 3/4 in. NPT or ISO 7/1-R 3/4 enable quick and easy installation in submersible or in-line configurations. Transmitter integral mounting kit and J-Boxes are available as accessories.
Features:
Controlled surface finish ensures accuracy and repeatability
316SS electrodes with injection molded PEEK process connections and insulators
Compact electrode length for easy in-line installation
Suitable for operation up to 131°C (268°F)
3/4 in. NPT or ISO 7/1 - R 3/4 process connections
Double-threaded connection for in-line or submersible mount
Triple orifice flow-through design reduces clogging and bubble entrapment
Cell constants may be traceable to NIST and certified to within ±1% of value
Integral Mounting Kit and J-Box acccessories
Applications:
Water Treatment & Water Quality Monitoring
Reverse Osmosis
Deionization
Cooling Tower
Boiler Protection
Distillation/Desalination
Demineralizer
Semiconductor
Aquatic Animal Life Support Systems
Conductivity/Resistivity Tools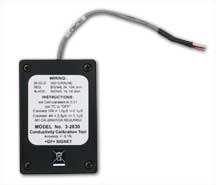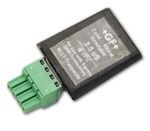 The Signet conductivity/resistivity tools are available for calibration ovalidation of electronics that are independent of the electrode. Because there are no available liquid standards for calibration in low conductivity and resistivity applications, these tools are ideal for various installations. All tools are built to conform to the ASTM D 1125-95 Standard (Standard Test Methods for Electrical Conductivity and Resistivity of Water), which is also commonly used for USP 24 applications.

Signet tools simulate, within ±0.1% precision (accuracy), various values: 1.0 µS, 2.5 µS, 10.0 µS, 10.0 MO, 18.2 MO. These tools are also temperature compensated to 25°C and enable the user to accurately validate or calibrate the electronics.

Model 2830 can be used with Signet Models 5800CR, 8850, and 8860 instruments. The 2850-101-X simulators are used with the newly released Model 2850 electronics and simply plug into the same terminals as the sensor cables.
Features:
Simulates five different values
Compatible with all Signet Conductivity/Resistivity instruments
Verifies electronics independent of electrode
NIST traceable units
Temperature compensated to 25°C
All units ship with NIST traceable certificates