0250 USB Digital (S3L) Configuration/Diagnostic Tool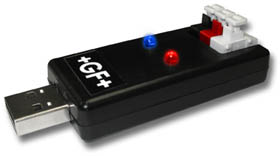 The new 3-0250 USB to Digital (S3L) Configuration / Diagnostic Tool interfaces with various Signet sensors to allow users to select all parameters available for modification, monitor the sensor's data on the PC/Laptop, or log the sensor's data to a file.
Features:
User-Friendly Interface
Configure blind sensors

Configure all modifiable parameters in the sensor

Monitor sensor data or log sensor data to a file

Monitor mV and Temperature readings in pH/ORP sensor
Applications:
Graph sensor data

Red and Blue LED indicators for power and data transmission

6 ft. USB extension cable
6400 Intrinsic Safety Barriers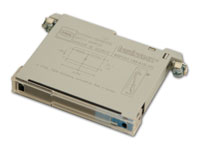 Georg Fischer Signet offers single channel intrinsic safety barriers for use with the 515, 525 and 2517 paddlewheel flow sensors.

Both versions use a 1/2 inch wide housing which snaps directly to a 35mm DIN rail. Once mounted, an electrical connection is formed between the barrier and the rail. The rail serves as the intrinsic safety ground bus when connected to the designated grounding point. Two additional ground lugs are provided and may be used as a redundant grounding method or for terminating shields.

Each barrier also contains a replaceable 160mA fuse cartridge for each channel. Safety barriers are polarity sensitive devices and are available in +DC and AC voltage ratings.
Features:
One step, snap-on 35mm DIN rail mounting and grounding
Replaceable 160mA fuse
Lowest internal resistance
Common 1/2 in. wide housing for single and dual channel versions
Short-circuit proof connections
FM, UL, CSA Approved
i-Go 8058 Signal Converter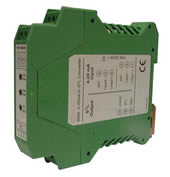 The Signet i-Go 8058 Signal Converter accepts any 4 to 20 mA signal and converts it into the Signet digital (S3L) format, the serial data format used by the Signet 8250, 8350, 8450 and 8900 instruments. When used with the 8900 Multi-Parameter Controller, the measurement type and operating range are defined in the 8900 setup menu.

When used with level, temperature and pressure transmitters, the 8058 is configured at the factory to the user's specifications.

The wire-mount single-channel version is easily mounted anywhere in the interconnecting wiring between the sensor and the instrument.

The DIN rail mounted dual-channel version can convert one or two separate 4 to 20mA inputs into a digital (S3L) output.
Features:
Connects with level, temperature, pressure and multi-parameter Signet instruments and other manufacturers' transmitters
Up to two 4 to 20mA sensor inputs
Connects additional measurement parameters to Signet 8900 Multi-Parameter instrument
Wire or DIN rail mountable
Applications:
Dissolved Oxygen Monitoring and Control in Wastewater
Chlorine Dioxide for Disinfection
Ozone Monitoring
Toroidal conductivity
Chlorine Injection Control
Tank Level Monitoring
Turbidity and Suspended Solids Monitoring
8059 External Relay Module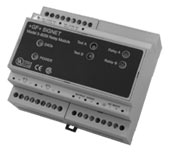 The 8059 External Relay Modules supplement the output capabilities of certain host instruments such as the 8250 Level Transmitters and 8900 Multi-Parameter Controllers. AC-powered versions accept universal line voltage, and also provide 24 VDC output that can be used to power the host instrument or other device(s). The host instrument controls relay operation by way of a single S3L connection. The compact plastic housing is DIN rail mountable and includes LED annunciators for each relay, plus one each for power-on and data transfer or test mode.
Features:
Two or four external relays controlled by host instrument
AC and DC powered versions
DC powered output (AC versions)
DC power passthrough (DC versions) to simplify wiring
S3L pass-through to simplify sensor wiring
Red LED annunciators for each relay
Green LED indicators for power and S3L data transfer
Relays may be tested locally, and also via the host instrument
CE, UL
24VDC Power Supplies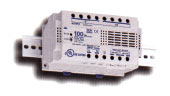 Signet 24VDC Switching Power Supplies provide regulated output voltage in compact and lightweight plastic housings that can be DIN Rail or surface mounted. The series includes five different output capacities from 300mA to 4.2A (7.5W to 100W), all of which accept universal AC line voltage input and meet worldwide standards for performance and safety. So whether your power requirements are for a single system, multiple Signet instruments or other devices requiring 24VDC operation, you have found the right supply for your specific application.
Features:
Regulated 24VDC output voltage
Five output capacities: 300mA, 600mA, 1.3A, 2.1A and 4.2A
DIN rail or surface mount
Universal AC input (85 to 264VAC)
DC compatible input (105 to 370VDC)
Fused input
Auto resetting output overcurrent protection
Unique spring-up, finger-safe terminals
Short-circuit protection
Output voltage adjust (+/-10%)
Light-weight plastic housing
Quality standards: CE (according to both EMC and LVD), cUL and UL508 listed
Applications:
COOL-FIT® Easy Flow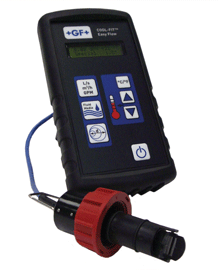 The Signet COOL-FIT® Easy Flow is a simple, handheld, pre-calibrated flow measuring device, which allows accurate and speedy balancing of the cooling points. Correct balancing of a hydraulic system is essential to optimize the pumping energy costs. Use of Easy Flow combined with GF Piping Systems manual valves offers a 100% plastic solution with guaranteed accuracy and with pressure drops over valves reduced to a minimum.

The COOL-FIT® system includes the Model 6500 COOL-FIT® Easy Flow handheld monitor, and a simple paddlewheel flow sensor, each sold separately.
Features:
Initial start up and balancing of hydronic secondary cooling systems
Backlit display
Fluids and oncentrations
pre-calibrated
High reliability
Simple configuration
Velocity from 0.1 m/s to
6 m/s (0.3 fps to 20 fps)
Easy to use 6 button operation
Battery life up to 1,000 hours
Dust and moisture resistant
Protected rubber cover/boot
Applications:
Commercial Refrigeration
Cooling