WindO/I NV2

Overview
WindO/I-NV2 is IDEC's screen creation software for the HG1F, HG2F, HG3F and HG4F operator interfaces (touch screen displays.) WindO/I-NV2 is used to create projects or programs that layout display screens for the O/Is. Using this window based program, any of IDEC's touch screens can display information from a PLC, process status, or can be used to input data with virtual switches or keypads to make changes to a process.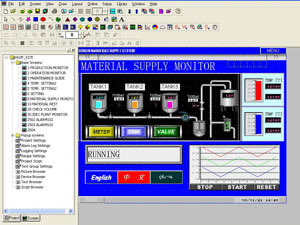 WindO/I-NV2 is easy and intuitive. Many of the processes are self-explanatory and guide you from step-to-step as you configure the O/I. The help menus are simple, straightforward, and are a good resource for getting additional information.

Creating colorful displays has never been easier. With Symbol Factory you have 5000 built in images for your disposal. You can also import almost any Bitmap or JPEG file into your project.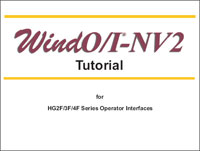 If for some reason you can not use one of IDEC's acclaimed PLCs, WindOI/-NV2 comes with many communication drivers to talk to other PLCs such as Allen-Bradley, Omron, Modicon, GE Fanuc, Aromat, Siemens, Keyence, Koyo and many others.

Note: Only original purchases of version 2.3x, 2.4x and 2.5x contain Symbol Factory Library. Not included in purchased versions previous to 2.3x.
Key Features
Built-in Serial and Network Protocols
Pass-thru function
Download, upload & view OI via Ethernet
Debug function
Over 5000 built-in bitmap library
Supports Windows Fonts
Supports Multiple Languages
Supports Scripting
Intuitive Drag & Drop Functionality
Flexible Screen Display for Efficient Editing
Workspace – easy to manage projects & screens
Download/Upload project to CF Card
Operates on Windows Vista, XP, ME, 2000, 98, 95 & Win NT v4.0
Free Upgrades
Documents and Downloads
WindO/I NV2 Catalog
______________________________________________________________________________________________
Overview

An IDEC PLC will save you both. All IDEC micro controllers are programmable with WindLDR® ladder logic software. This icon-driven programming tool combines logic and intuition with an incredibly easy-to-use interface to allow you to take advantage of every MicroSmart feature. Even without ladder program experience, you can use the built-in editors, shortcuts and debuggers to configure programs. Lose the extra costs of engineering, installation and maintenance and get right to work!

WindLDR® is an excellent, long-term investment for your control solutions. It programs every IDEC PLC, so it's adaptable to whatever hardware you need today and down the road. Software upgrades are always free for registered users.
Highlights of WindLDR
Online editing and programming
Shutting down for minor changes can be a major hassle, so WindLDR allows you to edit and download programs while the PLC is still in Run mode. You'll be able to write new values to counters, timers and registers at any time without switching between editor mode (for programming) and monitor mode.
(Requires Flash 8 plug-in - 403KB)
Simulation Mode
Test your program in WindLDR to guarantee that it works the way you expected, rather than downloading it to your PLC for a test run.
(Requires Flash 8 plug-in - 213KB)
Custom Monitor Dialog
Compile and enter a list of the parameters you want to monitor, then save it and access it again and again, instead of reentering your data every time.
(Requires Flash 8 plug-in - 319KB)
Simple-to-use editors
Use the tag editor to access and edit coil data. Edit comments and rung comments. Simulation mode Test your program in WindLDR to guarantee that it works the way you expected, rather than downloading it to your PLC for a test run.
Comment download
When you transfer your program to the PLC, you have the option to include any accompanying comments too. User programs can be downloaded with the comments attached to operands and rungs; the documentation is stored in the processor. With comment data, you can review programming codes for clarification and streamlined maintenance. Custom monitor dialog boxCompile and enter a list of parameters you want to monitor, then save it and access it again and again, instead of re-entering your data every time.
Verify Program
Compare programs between PLC and PCThis great debugging tool allows you to run a comparison without uploading the whole program from the PLC back to your PC. If there's a chance your program has been corrupted or tampered with, that's a chance you don't want to take.
User-friendly interfaces
Icon-based toolbars and drag-and-drop functionality make basic ladder programming accessible to anyone. But WindLDR also shows you how to display parameters and settings and how to input your parameters, and the built-in shortcuts and tutorials will keep you on the right track.

Documents and Downloads
WindLDR Catalog

______________________________________________________________________________________________
WindLGC


Overview
WindLGC is the exclusive programming software for the IDEC SmartRelay using Windows®.
Simplicity
Create, simulate, test and save your program in just a matter of seconds using drag and drop functions.
Control
Choose either function block or ladder programming, but keep in mind that you can always convert from one to the other with just the click of an icon. Offline program simulation (without the need for an actual unit) enables testing of the entire program from a PC, or you can test and monitor your IDEC SmartRelay online.

Documentation
You can create and save your WindLGC program as a .pdf or .jpg file. Professional documentation is included with all necessary configuration information such as comments and program settings.

Key Features
Function blocks
Drag and drop simplicity
Compatible with Windows 95, Windows 98 and NT, 2000, ME, XP
Offline program simulation
Boolean logic
Tag name editor
Documents and Downloads
WindLGC Catalog
WindLGC Brochure
______________________________________________________________________________________________
WindSRV

Overview
This 32-bit software application makes it possible to link your OPC and DDE compliant Windows - based software to any IDEC programmable logic controller, using RS232, RS485, or Ethernet. Now you can interface all of those intelligent devices and let them do the work you used to do yourself.

That means any industrial HMI, SCADA, data acquisition, MES or ERP will connect through WindSRV to a MicroSmart, OpenNet Controller, Micro3, Micro3C, or any legacy PLC. All you have to do is install the server software on your PC running Windows, and you have a low-cost data acquisition and monitoring system using your own computer and IDEC.
Key Features
Best in class performance, certified OPC and DDE compliant connectivity through RS232, RS485 or Ethernet.
Analog and discrete I/O support for the whole IDEC programmable logic controller family
ASCII input and output support through any of our controllers
Demo application using OPC, Excel and the MicroSmart PLC for easy start-up and troubleshooting
Documents and Downloads
WindSRV Catalog
WindSRV Brochure